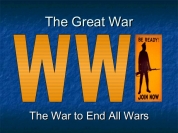 Group URL:
Description :
This is a Public Group is to connect World History teachers from around the world to share educational resources, topics, and learn from one another specifically over the World War I.
World War 1 Group 2831

views
---

Europe
The direct cause of WWI was the assassination of Archduke Franz Ferdinand at Sarajevo on 28 June 1914.
3 years ago |
Participate

Causes of WWI
This topic I would like to hear how you discuss with your students the causes of WWI. Most importantly, how to keep them engaged through the discussion and learning process.
4 years ago |
Participate